Professional
installation with a
customer service
focus.
Carpet, Hardwood, Laminate, and Tile
Samples can be provided when we come to measure
Online design tools to get started
Get design inspiration from our gallery of floors
Ask our expert for the perfect design solutions
Location
450 Woodlawn Road, W.,
Guelph, Ontario
N1K 1A6
Parkinson's Plumbing Ltd.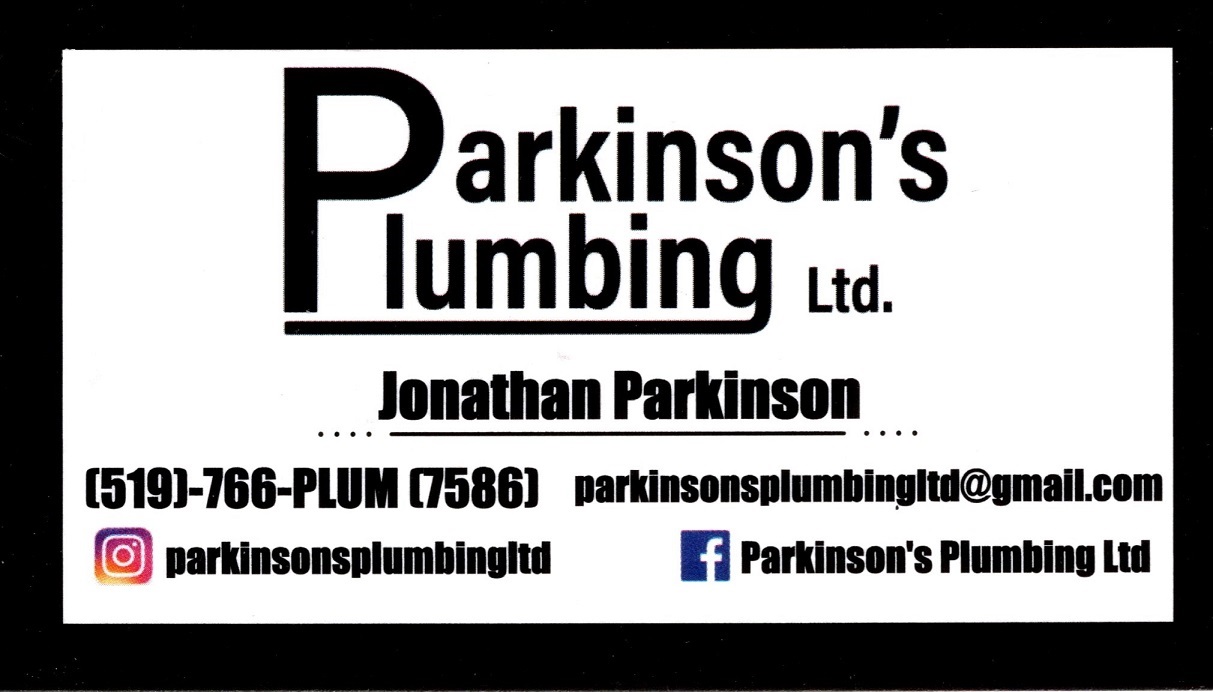 Proudly serving Guelph, Wellington County, and surrounding areas.
Licensed plumbing services
Family owned and operated
Completing all your plumbing needs
Location
5759 Second Line, E.,
Aris, Ontario
N0B 1B0
Lloyd Scott Enterprises Ltd.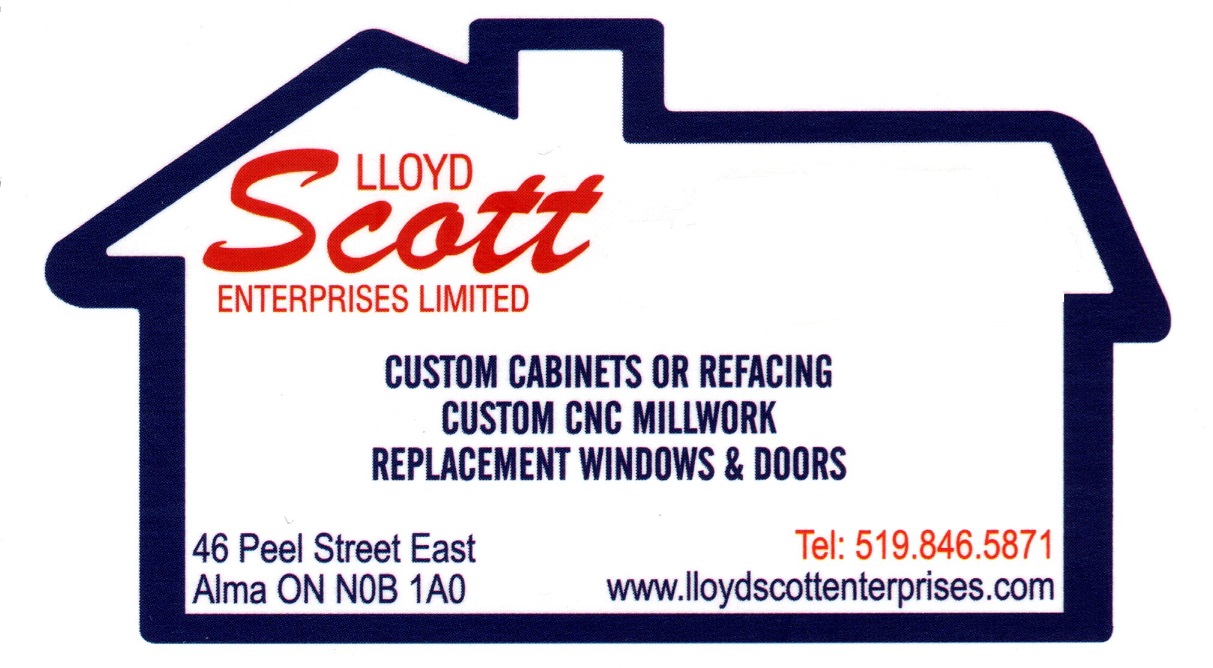 Improvement &
transformation
We make your vision
a reality.
For more than 50 years, Lloyd Scott Enterprises Ltd. continues to be synonymous with quality, integrity and excellent customer service. Our experience and competitive pricing have made us your trusted source for home renovation projects, windows and doors and custom kitchen cabinetry. Home projects big and small, we work with you to bring your vision to reality.
Proud to be a family-owned business, our name is on everything we do.

Location
46 Peel St, E.,   P.O. Box 25,
Alma, Ontario
N0B 1A0
Fergus Pharmacy & Compounding Centre
We offer:
Free Local Delivery (Fergus, Belwood, Elora, and surrounding areas)
Specialized Medication Compounding from SCRATCH customized for YOU
Home Health Care Products Available
Easy prescription transfer
Mon-Fri: 9am-6pm / Sat: 10am-3pm / Sun: 11am-2pm  (holidays closed)
Option+   Compare and Save
Hundreds of quality products at lower prices than national brands
100% Satisfaction Guaranteed
Fergus Pharmacy & Compounding
500 Garafraxa St. E.,  Unit B
Fergus, Ontario
N1M 1E7
At Four Fathers Brewing, we believe that pride of craftmanship still matters. We believe that committing to do something very well requires not only experience and skill, but also patience, creativity and respect for tradition. This is the foundation of craft beer and is the core value in everything we do. We live it! 


Enjoy the journey with us and
Stand for something good!
Four Fathers Brewing Co.
125 Guelph Ave.,
Cambridge, Ontario
N3C 1A5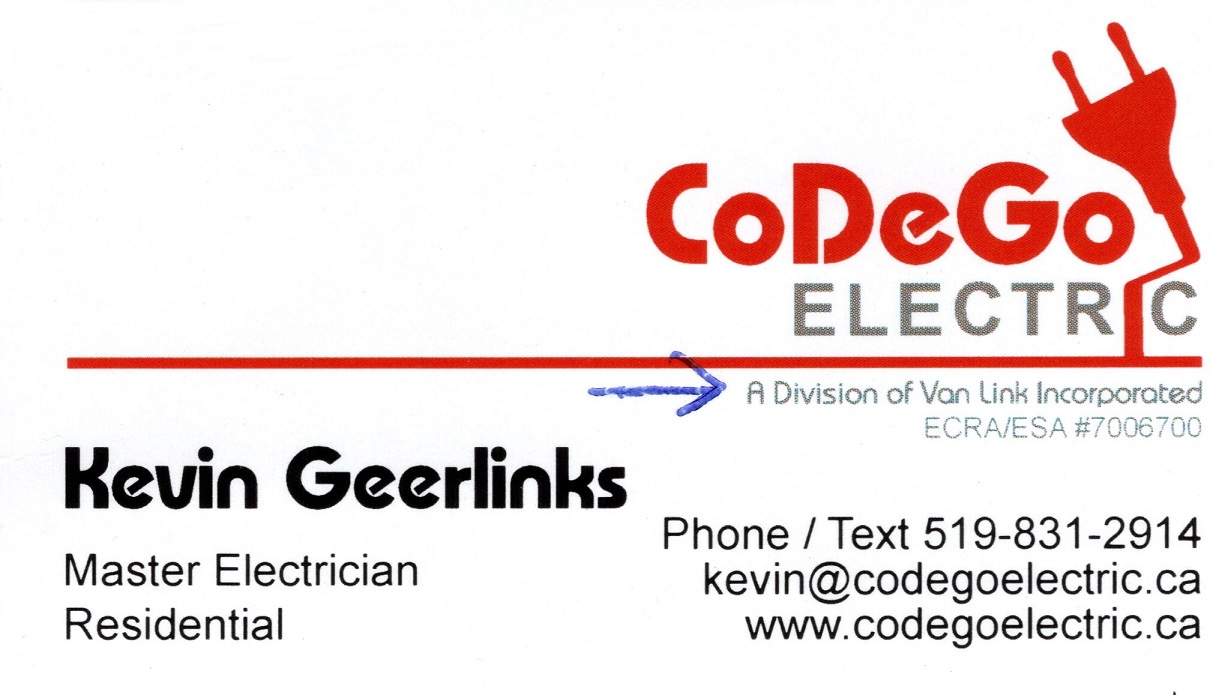 A Division of
Van Link Incorporated
ECRA/ESA #7006700
Master Electrician
Electrical small job specialist!
Love helping seniors who just cannot quite do it themselves anymore 
Location
5781 Second Line E.,
Aris, Ontario
N0B 1B0
Evergreen Duct Cleaning Inc.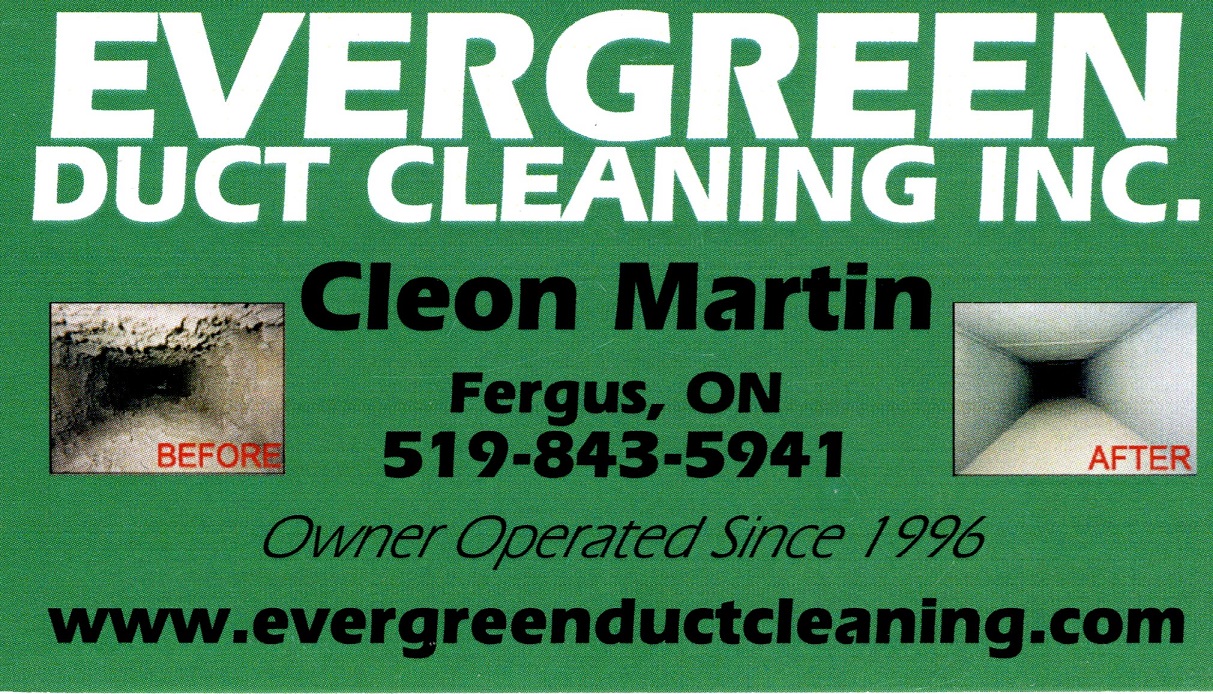 Owner operated
since 1996.
Our Services
Duct Cleaning
Furnace Cleaning
Air Exchanger Cleaning
Central Vacuum cleaning
Dryer Vent Cleaning
Basement clean-down
Please check out our website for details.
Location
7090 Hwy 6,
Arthur, Ontario
N0G 1A0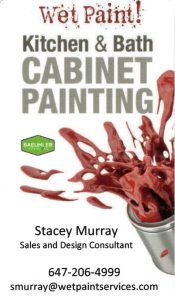 We specialize in providing
solutions to homeowners
looking to upgrade or change
the the appearance of their
kitchen or bathroom cabinetry.

Our Services
Specializing in cabinet resurfacing since 2007
Seniors rates available
No deposits required
We also provide interior painting services (Baeumler Approved)
Fully insured and WSIB compliant
Satisfied customers are our motivation to perform our work with reliability and trustworthiness. Please check out our website for more detail.
Location
400 Morobel Drive, Unit 5
Milton, Ontario
L9T 4B6
Centre Wellington Enterprises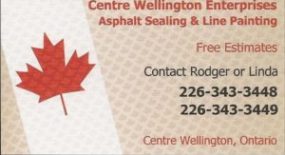 Asphalt Sealing & Line Painting
in Centre Wellington
We provide quality driveway sealing and crack filling services that protects and beautifies your driveway. We are a local business and take great pride in our work. We are cost effective, and what differentiates us from other businesses is our ability to truly connect with our customers and provide the exceptional service they deserve.
Free no obligation quotes!
Community Matters
We're not just a law firm, we are your neighbours. SV Law has the reputation of giving back to the community.
Your Time Matters
We understand that we work for you – not the other way around. By being flexible and responding quickly, we get you what you need when you need it!
A Solution Matters
Practicing law isn't just our job, it's our passion. We don't quit until we arrive at your best possible solution.
Full Services Matters
We are proud to offer a full range of legal services to meet all of our clients' needs.
Fergus/Elora Office
294 East Mill Street,
Unit 108,
Centre Wellington, Ontario
N0B 1S0
SWOT Services
(South Western Ontario Transition)

When you need help with the contents of an estate, downsizing or de-cluttering your home, we are here to help with confidential, personalized expert service.
No job is too big or too small. I'm here to help making any transition easier for you.
Estate Dispersal Assistance
De-Cluttering and Downsizing Management
Retirement Home Transition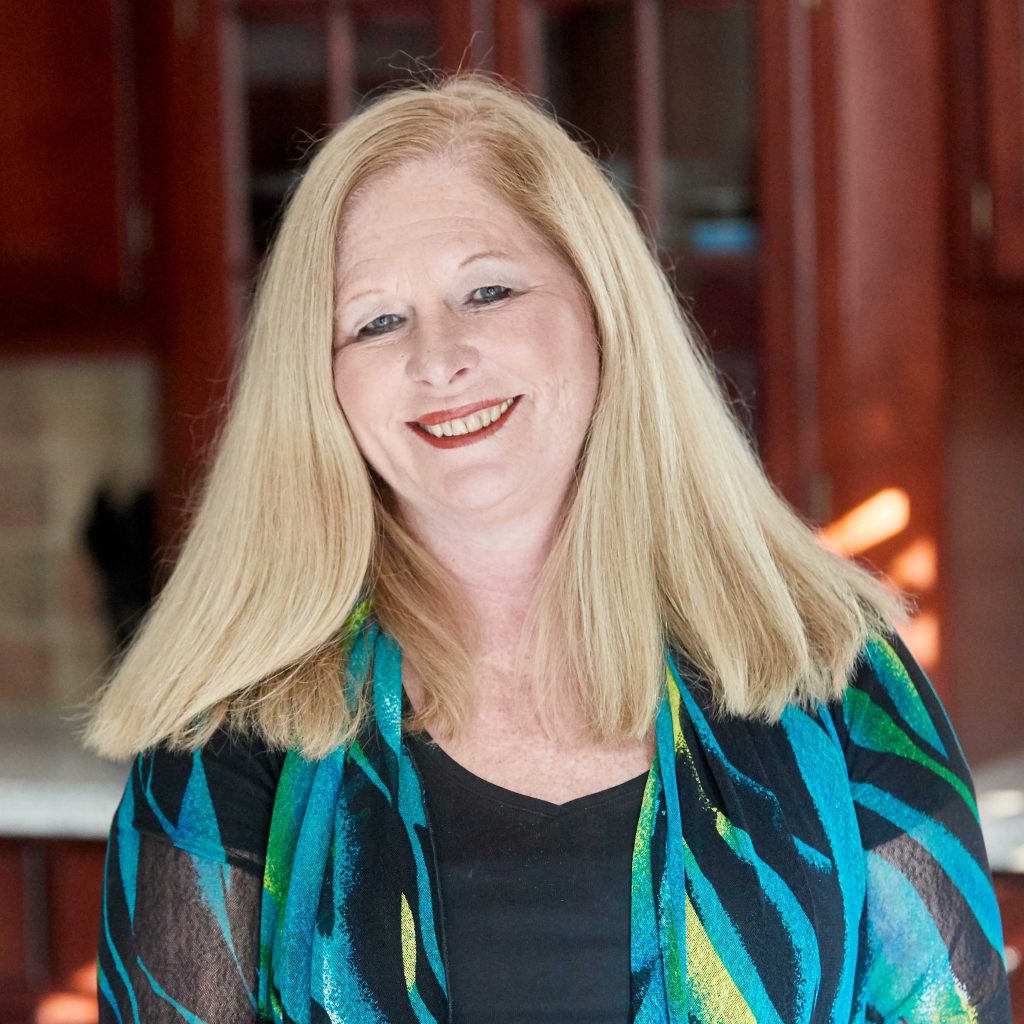 Cover-Ups Carpet & Flooring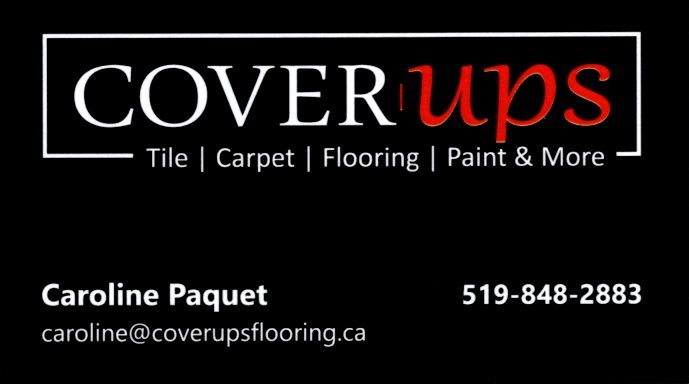 Cover-Ups offers a wide variety of flooring and tile. We carry beautiful and well priced carpet, hardwood, laminate, vinyl, porcelain & ceramics as well as PARA paint.
We also provide full installation and renovation services if needed and qualified technical support for your DIY projects.
Our Guarantee….
Trustworthy. Like any small business in a small community, our guarantee is your satisfaction.
199 St. Andrew St. W.
Fergus, Ontario
N1M 1N6
Grand River Physiotherapy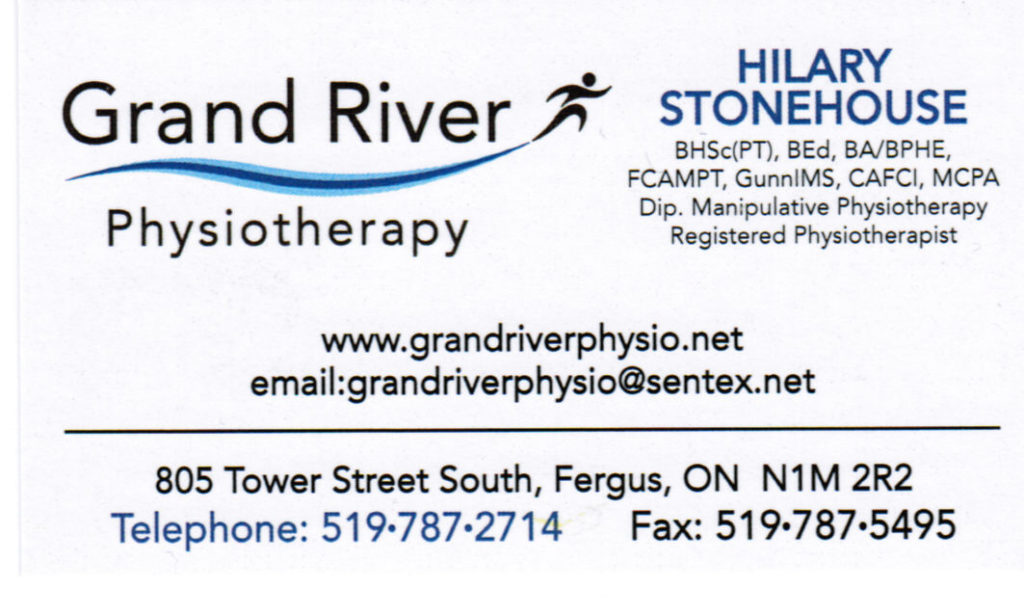 Our registered physiotherapists have advanced physiotherapy skills and qualifications that deliver results for patients needing physiotherapy in Fergus, Elora and surrounding regions of Wellington County.
Our talented team of experienced physiotherapists has been dedicated to successfully treating the Centre Wellington community since 1999, ensuring that each one of our patients has a positive physiotherapy experience! We treat a wide variety of conditions (from head to toe!), and no doctor's referral is required to begin physiotherapy treatment with us.
The unparalleled quality of care and service we provide for our patients has enabled us to establish a "family feel" within our clinic. This explains why, at Grand River Physiotherapy, the majority of patients that we treat are return customers!
We encourage you to come to Grand River Physiotherapy and experience first hand our dedicated care. Our goal is to ensure that you receive the best quality care in the region.
At Grand River Physiotherapy we treat a wide variety of conditions, not limited to but including:
Physiotherapy
Massage Therapy
Vertigo/Dizziness – Vestibular Rehabilitation
Concussion Management
Acupuncture
Electrotherapy (including Ultrasound; TENS-Nerve stimulation; and others)
Exercise Prescription
Orthotics Consultation
805 Tower St. S
Fergus, Ontario
N1M 2R2
6420 Beatty Line N
Suite 109
Fergus, Ontario
N1M 2W3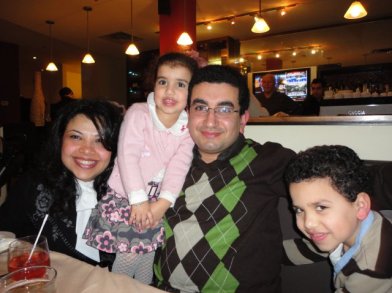 Free delivery of your prescriptions!
Co-pay for seniors – Ask Mark about this!
We simply care!
What we offer:
15% off every day loyalty card*
Flu vaccine available at our location from October through to May; by appointment or as a drop-in service
Fast and friendly service
We waive $2.00 for seniors and patients on the Ontario Drug Benefit (ODB) plan
Free delivery for all prescriptions
We are open daily — even weekends and holidays!
We will happily cater our services and stock to suit your needs
Free blood pressure monitoring
All drug plans are honoured
Free customized weekly blister packs available
Greeting cards for just $1!
HOURS OF OPERATION

Monday to Friday 9:30am to 7:00pm
Saturday 9:30am to 3:00pm
Sunday 12:00pm to 3:00pm
Holidays 9:30am to 12:00pm
108 St. Andrew St. W.
Fergus, Ontario
N1M 1N5
Belwood Country Market has operated in Belwood since May 2007. The market received the Customer Service Award from the Centre Wellington Chamber of Commerce in the first year it was opened! Among the local faces, you'll see Mike and Julie Woelfle slaving away to bring you amazing food and desserts.
16 George Street
Belwood, Ontario
N0B 1J0
Dixon Home Hardware Building Centre
At Dixon, we carry a full line of lumber; building materials; hardware and paint. Open 7 days a week. Delivery Available. Family owned and operated since 1923.
745 St. David St. N.
Fergus, Ontario
N1M 2L1
Pine Meadows Home Resales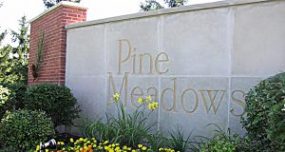 Your place to be involved, active, creative, and healthy
Pine Meadows offers the perfectly balanced lifestyle, enhanced by the picturesque, tranquil country side in which you will live the life you want.
Meet our Sales Staff: (All are residents of Pine Meadows)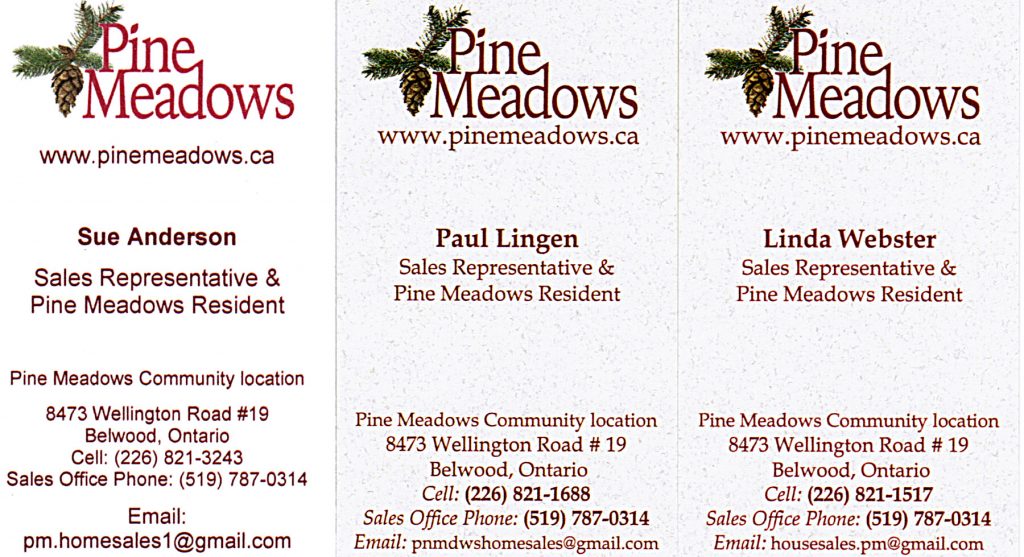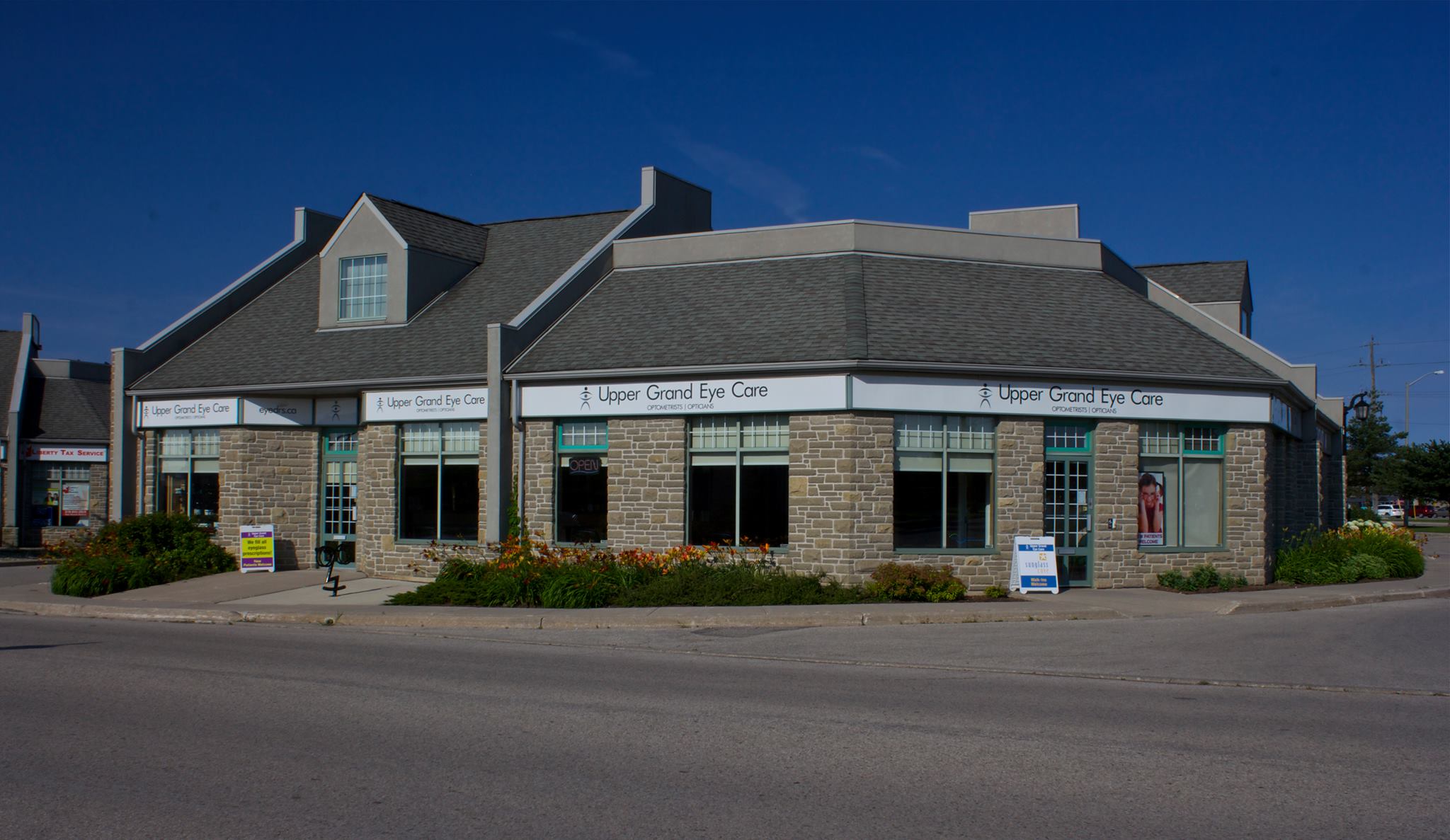 Upper Grand Eye Care has been serving the Centre Wellington area for over 20 years by providing gentle, professional eye care services and a wide variety of the latest, quality eyewear.
Using advanced diagnostic technology we offer:
Comprehensive eye exams for patients of all ages
Management of ocular diseases (glaucoma, cataracts, macular degeneration and more)
Emergency care
Treatment for dry eye
Low vision support
Glasses, sunglasses, contact lenses and more!
Did you know OHIP covers annual eye exams and any partial exams for people 65 and over? Make an appointment or drop in anytime to talk about your eye health or eyeglasses needs. Find us conveniently located in the Boston Pizza Plaza with free ample parking.
100 McQueen Blvd.,
Fergus, Ontario
N1M 3T8
John Thomson & Son Furniture Ltd.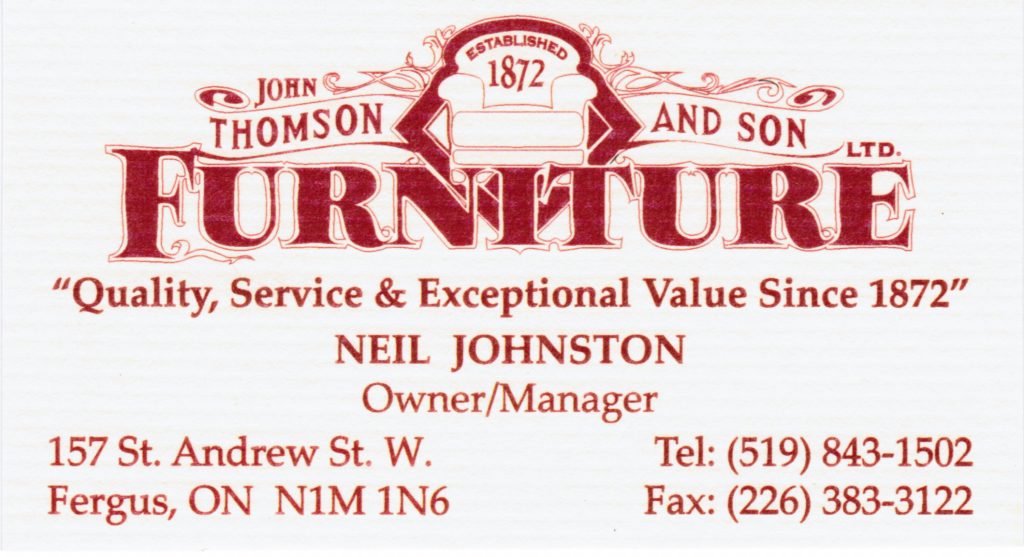 Quality, Service &
Exceptional Value
Since 1872
 5th Generation celebrating 140 years serving Wellington County and area with the latest trends in fine furniture and accessories.
Store Hours:
Monday, Tuesday, Wednesday & Saturday: 10:00 a.m. – 6:00 p.m.
Thursday & Friday: 10:00 a.m. – 9:00 p.m.
Sunday: By Appointment
157 St. Andrew St. W.
Fergus, Ontario
N1M 1N6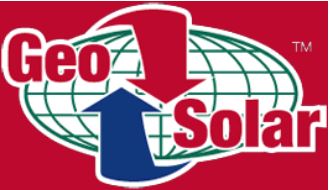 Geothermal Heat Pumps
Service & Installation
Fergus, Ontario

The priority of our company is customer satisfaction and we never stop pursuing this goal. We've built a team of specialists who know how to help our customers from the ground up.
When it comes to geothermal heat pumps, our goal is to achieve the greatest customer satisfaction by focusing on the quality, life expectancy and reliability of the system we install and service.
640 Gartshore Street
Fergus, Ontario
N1M 2W7
Dr. Maura McKeown and Associates – Dentists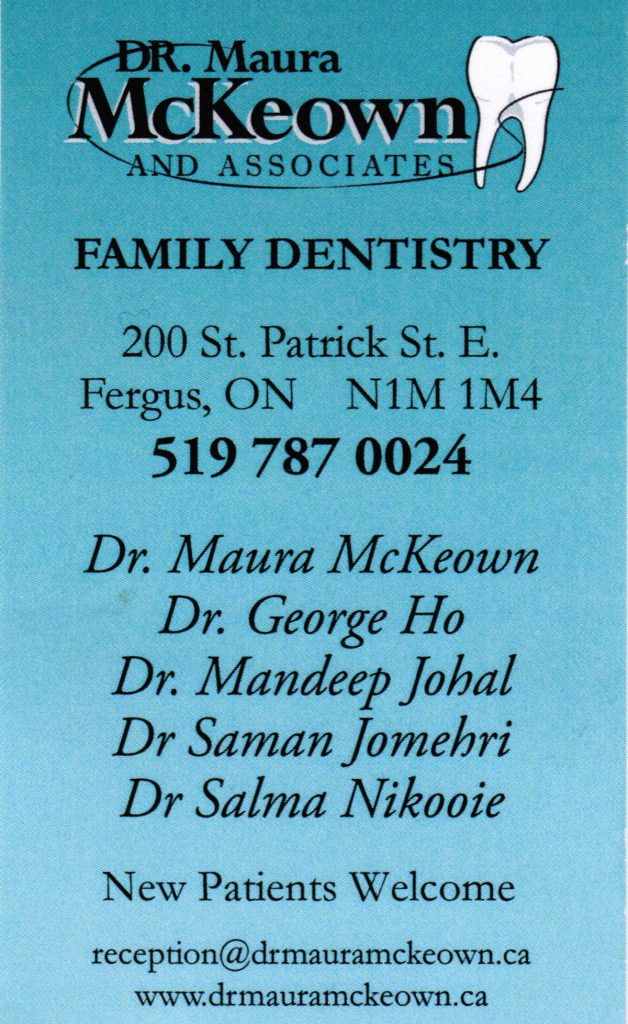 Your smile is one of your
greatest assets.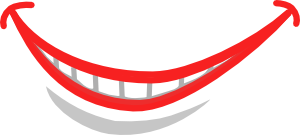 Make it the best it can be
 with a visit to an experienced
dental professional.
Dr. McKeown and her staff offer a full range of services for the entire family. From general dentistry to cosmetic and orthodontic services, Dr. McKeown provides dental care for all ages.
Knowing the importance of building a welcoming environment, we invite you to communicate openly with us about any health concerns or questions you might have. We will ensure that your questions are answered and your concerns addressed in a courteous and professional manner. We are currently welcoming new patients. Whether you have just moved to the area, or are looking to change dental care providers, we invite you to contact us for an initial consultation.
200 St. Patrick Street, E.
Fergus, Ontario
N1M 1M4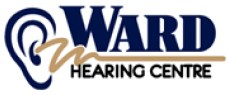 Brian Ward, a Hearing Instrument Specialist with over 17 years experience serving the Fergus/Elora community, independently owns Ward Hearing Centre in the historic Groves Mill.
Brian and his team of specialists provide you with caring, professional service with your best interest at heart to give you the piece of mind you deserve. Our fully equipped, state-of-the-art facility caters to all of your hearing needs!
Ward Hearing Centre is not affiliated with any hearing aid manufacturers, so you can rest assured that our recommendations are what best fit YOUR hearing needs and budget.
Services:
Complimentary Hearing Tests
Hearing Aid Fittings
Lifetime Cleaning & Adjustments
Hearing Aid Batteries & Accessories
Tinnitus Management
Home Visits
Ear Cleaning
Hearing Aid Repairs
Hours:
Monday – Thursday: 9:30 a.m. – 5 p.m.
Friday: 9:30 a.m. – 4 p.m.
Located in the Historic Groves Mill behind The Brewhouse
100 – 160 St. David St. S.
Fergus, Ontario
N1M 2L3
Speers Electric (2015) Limited
Speers Electric is a family-owned business now in it's third generation! We have been serving the Fergus-Elora area since 1945. We specialize in appliance sales and service, water systems, plumbing and electrical wiring.
Hours:
Monday to Wednesday: 8 a.m. to 5 p.m.
Thursday: 8 a.m. to 8 p.m.
Friday: 8 a.m. to 5 p.m.
Saturday: 9 a.m. to 12 noon
4-6458 Wellington Road 7
Elora, Ontario
N0B 1S0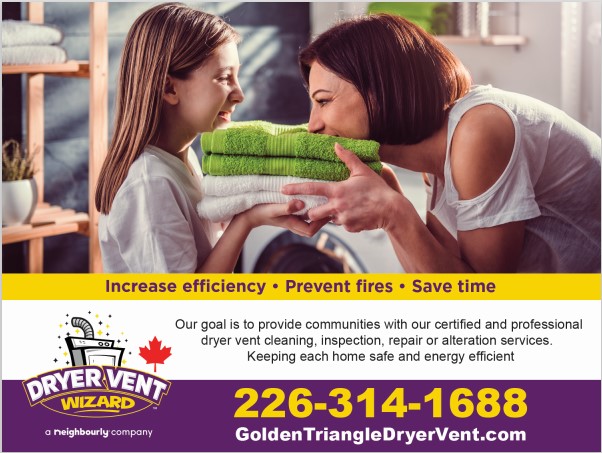 We are the experts for dryer vent cleaning, installation, repair and alterations. With a clean dryer vent you can save time and money while preventing a dryer fire.
Dryer Vent Wizard services start with a complete diagnostic and inspection. We can then determine if the dryer venting is efficiently run and safe. We will identify if your vent needs to be cleaned; if the dryer vent is properly routed; if the proper code compliant ducting materials are used and if a booster fan is needed.
Once we have completed the inspection, our professionals use a specialized system to remove all lint buildups, clogs and obstructions in the line. In some cases, this may include bird and rodent nests. Our cleaning process is for the entire run of the vent and booster fan, not just the entry and termination points. When necessary, we can properly route your system to prevent future problems and replace substandard ductwork that could create a safety hazard.
Is it important to have my Dryer Vent Inspected and Cleaned?
Dryer vents can pose a health risk and fire hazard if not properly inspected and cleaned. It is important to ensure your dryer venting is efficiently routed, constructed with the proper ducting materials and has strong air flow. Our goal is to maximize your dryer's efficiency and reduce the risk of a fire. Achieving our goal will saving you money on utility bills and keeping your family SAFE!
We Get the Lint Out!    Read our Homestars customer reviews.
4-6458 Wellington Road 7
Elora, Ontario
N0B 1S0
Blue Pine Janitorial Services Inc.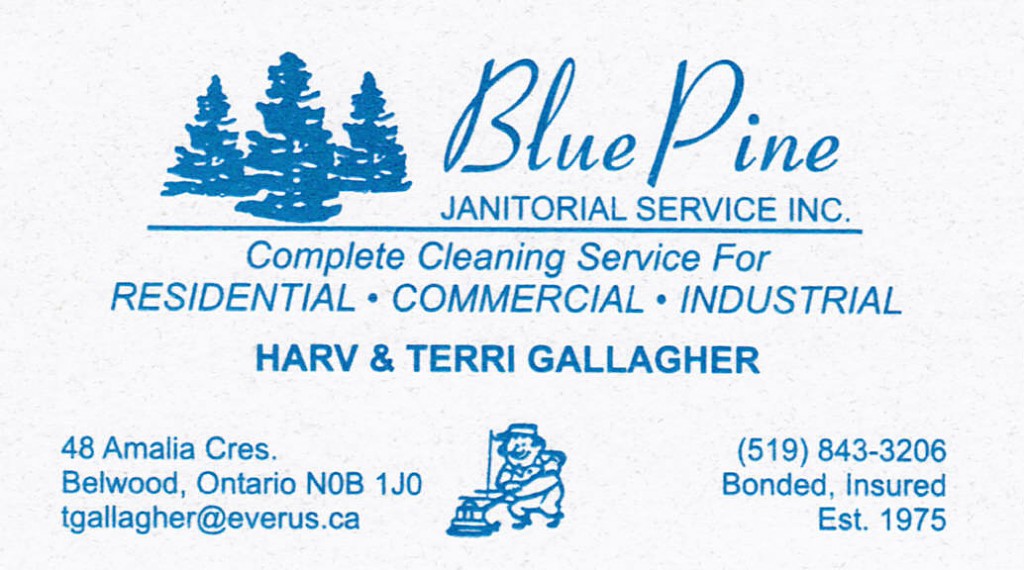 Complete cleaning services
for
Residential – Commercial – Industrial
 We are a family owned and operated janitorial service, currently celebrating 38 successful years.
We also provide a carpet cleaning service with clean, quality, reliable equipment. We proudly serve satisfied customers in Centre Wellington and surrounding area.
48 Amalia Crescent
Belwood, Ontario
N0B 1J0
Intelligent Computer Systems
Computer sales and service (all makes and models)
On-site installation and repair
New and used laptops and desktop systems
Ink, toner, accessories, supplies
Intelligent Computer Systems
820 Gartshore St.
Unit #105
Fergus, ON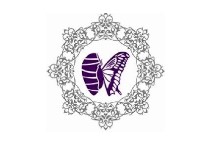 Design Consultations
 Paint Consultations
 Blind Measure

At Coocoon Interiors Inc. we strive to achieve your interior design wishes. Our company provides various services to help make the design process easier.
Blinds
Shutters
Canadian made furniture
Lighting
Bedding
Custom Drapery
Visit our website to see our products and services.
Call us for more information on our full design consultation!
Cocoon Interiors Inc.
180 St. Andrew St. West
Fergus, ON   N1M 1N5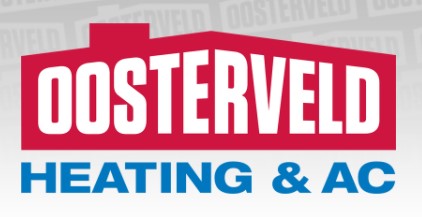 Making life
 more comfortable
 any way we can. 
We are a professional, full service HVAC company. Our highly trained technicians can repair, maintain or replace your cooling and heating equipment. No job is too big or too small for us to handle, and we offer emergency service to our customers during the heating seaason.
We service…
Hot water heaters
Geothermal units
Water softeners
Fireplaces
and more…
We can also help if you are interested in an air filtration or humidifying service.
Visit our website to see all of our products and services.

1007 York Road
Guelph, ON   N1E 6Y9
588 Glengarry Crescent
Fergus, Ontario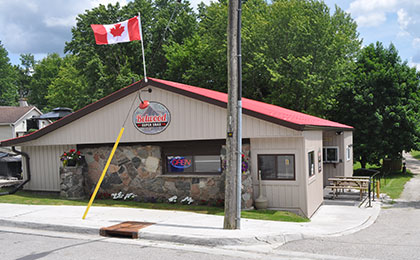 5 George Street
Belwood, Ontario
N0B 1J0
South Tower Animal Hospital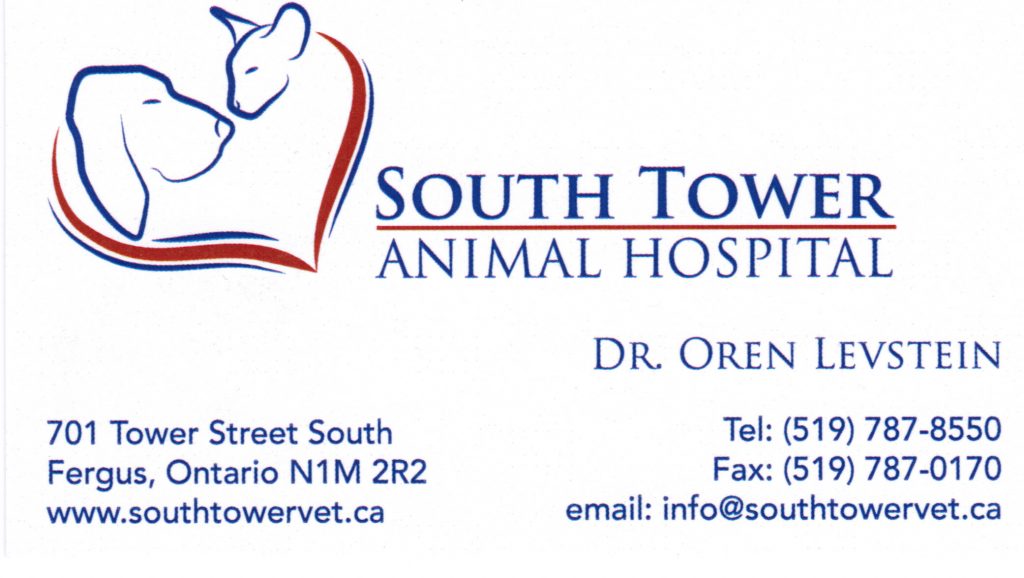 We are a full service, small animal hospital with an emphasis on preventive medicine and a special interest in surgery (general, abdominal, orthopedic, urinary and oral).
Emergency Care
We have a veterinarian and personnel on duty 6 days a week who are trained and equipped to handle any urgent care your pet has. Usually an emergency team consists of at least one veterinarian and several technicians working together to save a pet's life. Emergencies can be things such a snail bait poisoning, hit by car, and chocolate ingestion. If you ever feel that your pet needs emergency treatment do not hesitate to call or come in immediately. If possible it is best to call before coming in so that a team member can advise you on your particular emergency.
We are also available for urgent care when the condition is not life-threatening, but you feel your pet needs to be seen before you are able to get an appointment. Our veterinarian will work to "squeeze" you in between scheduled appointments. When you arrive, our receptionists will be able to give you an estimate on how long you may have to wait in order to be seen.
48 Amalia Crescent
Belwood, Ontario
N0B 1J0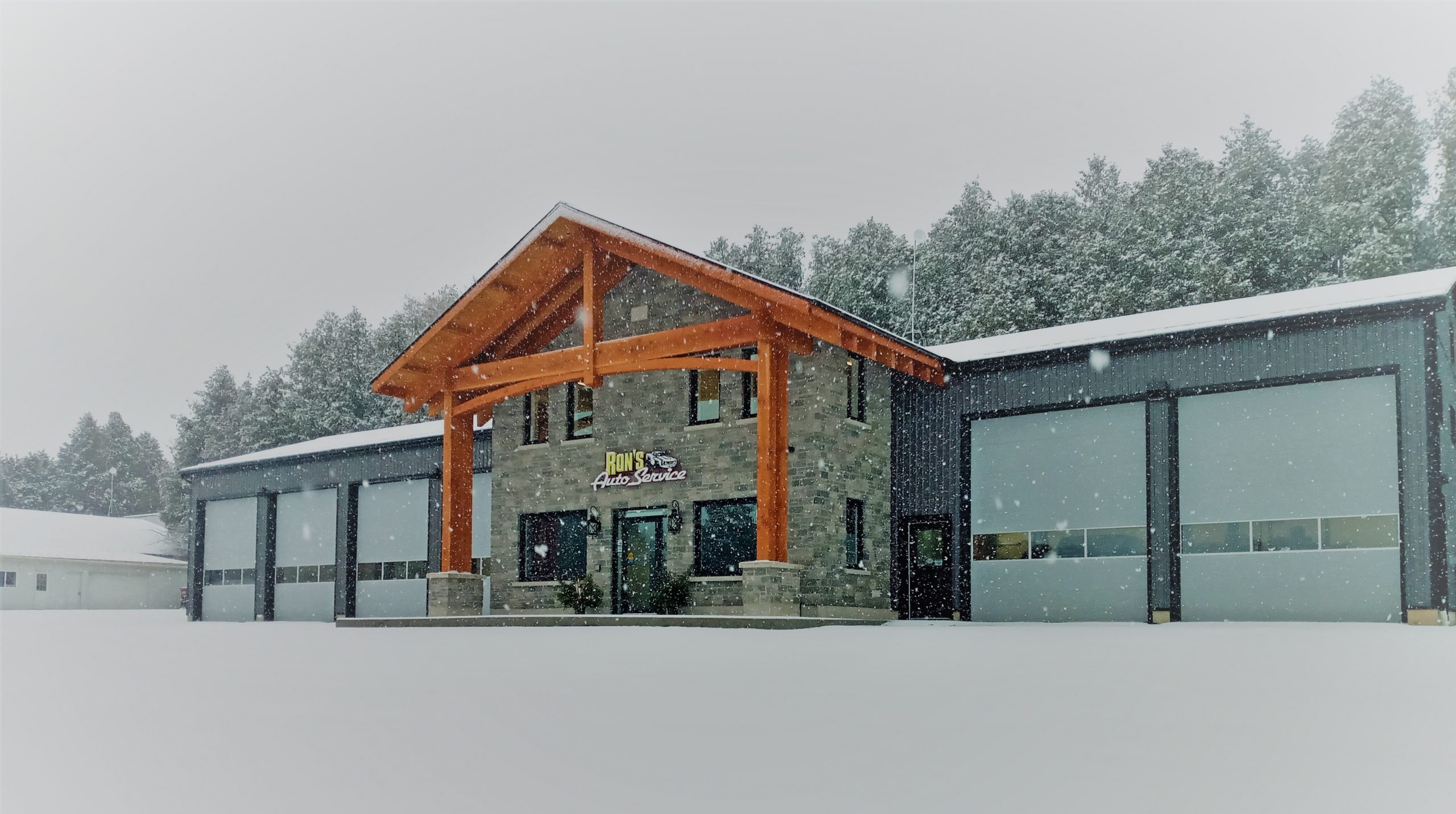 We are a family-operated business, offering honest repairs and services to all makes and models of cars and light trucks.
We have been serving Centre Wellington for 25 years!
At Ron's Auto we believe in building strong relationships through honest and open communication. We know that trust and respect are earned!
8125 Wellington Rd 18
Fergus, Ontario
N1M 2W5
Campbell's Creative Landscaping
Bruce is a well known landscaper who creates and maintains flower gardens in Pine Meadows. He thanks you for your ongoing support and confidence in his efforts to help keep Pine Meadows the beautiful place it is. Bruce is no longer doing interlocking stone walkways or retaining walls.
 * Services are now limited to previous clients. *
Bruce Campbell
519 787-0523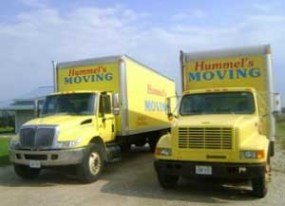 Hummel's Moving is a full-service moving and storage company. Family owned and operated for over 30 years, Our motto is: 
     "Careful & Considerate"
Services:
Local and Canada wide moving
Free estimates
Heated storage available
Wardrobe box service
Packing supplies & services
Piano moving
Fully licensed and insured
Hummel's Moving
7281 Hwy #6
RR#1 Arthur, ON N0G 1A0
Mailing address:
PO Box 779
Arthur, ON N0G 1A0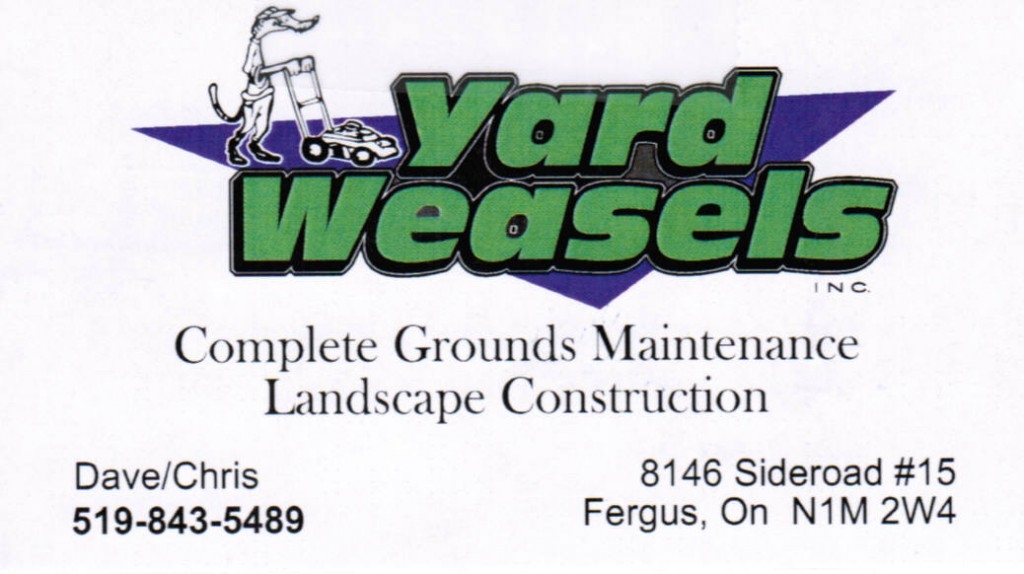 Yard Weasels Inc. is a family run business founded by brothers, David and Chris Ososki in 1995. The company was initially established as a maintenance company, but over the years has expanded to provide a number of services.
David, Chris and the entire Yard Weasels team approach each and every project with the primary focus on quality. The Yard Weasels team is comprised of experienced and hard working staff. Yard Weasels Inc. provides them with the best equipment and tools of the trade in order to ensure your project is completed efficiently and properly.
Office Address:
8146 Sideroad 15
RR#3 Fergus, ON N1M 2W4
Estate Transition Planners Canada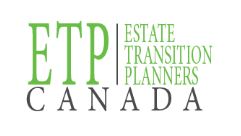 Estate Transition Planners Canada is based in Guelph Ontario and helps you to start the conversation surrounding estate administration.
ETP Canada assists executors with the administration of an estate.
We also act as a professional executor.
Office Address:
343 Waterloo Ave.
Guelph, ON N1H 3K1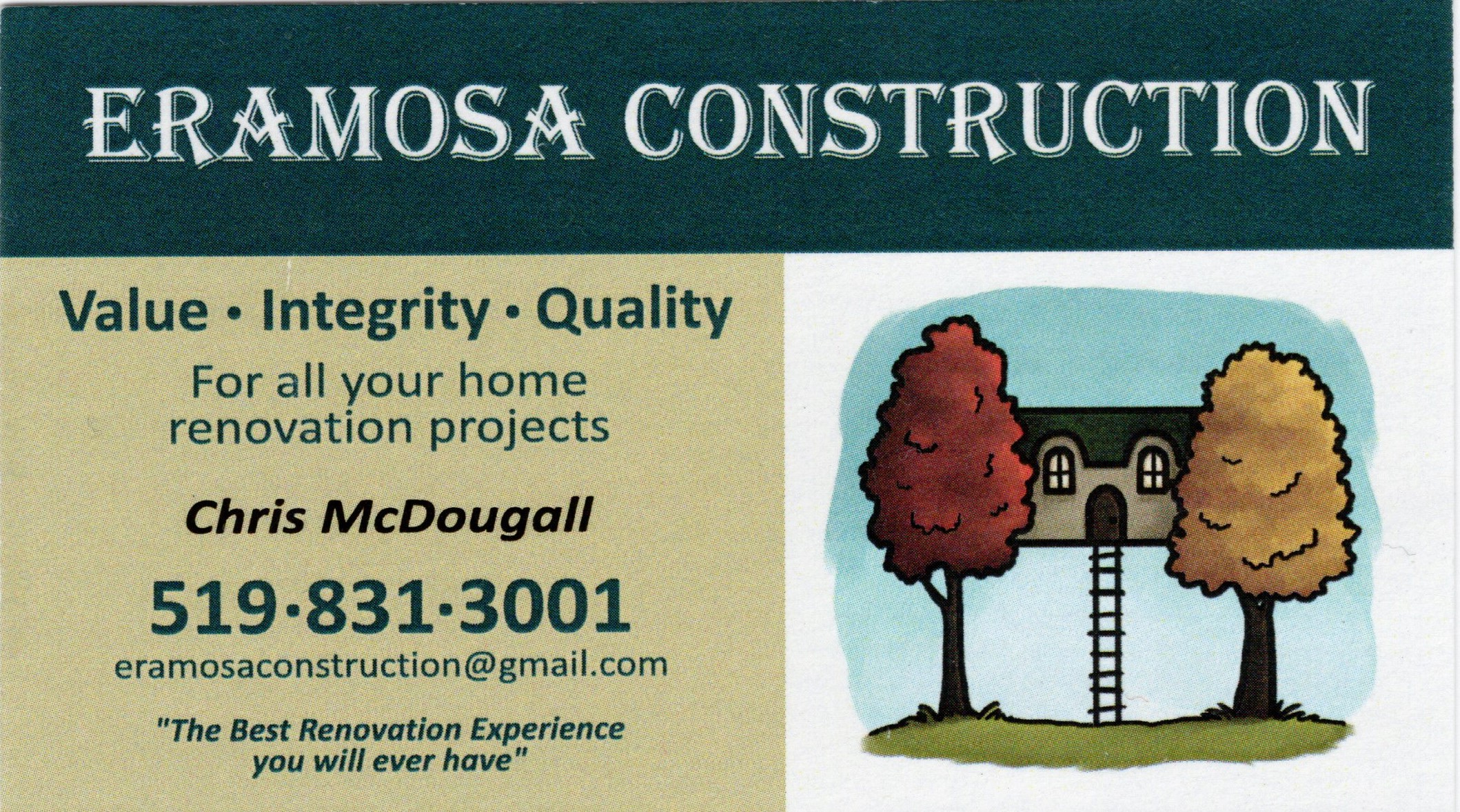 30 years experience
in the industry.
Small family owned business providing residential renovations, additions and new construction (including kitchens, bathrooms and basements).
Office Address:
8211 Wellington Rd 22
Guelph/Eramosa,  ON
Complete Plumbing Services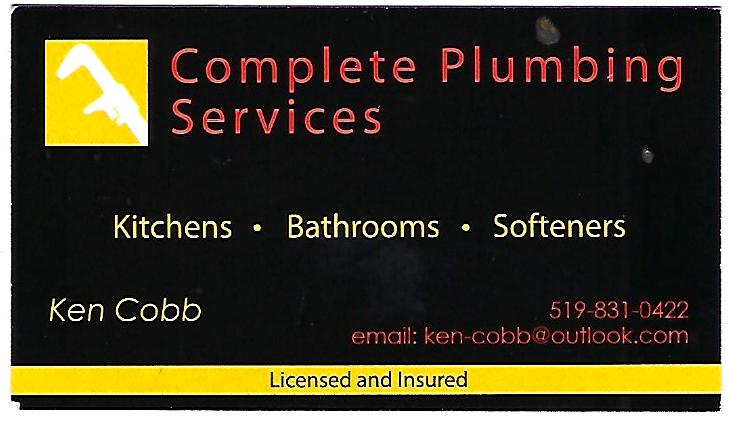 Kitchens
Bathrooms
Softeners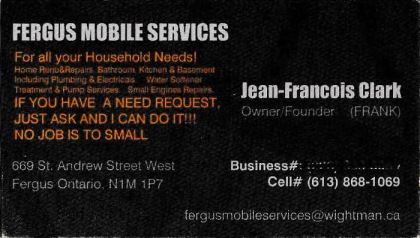 For all your household needs! 
No job is too small or too big.
Home renos & repairs
Bathroom, kitchen & basement
Including plumbing & electrical
Water softener treatment & pump services
small engine repair
441 Wellington Rd 18,
Fergus, ON N1M 2W3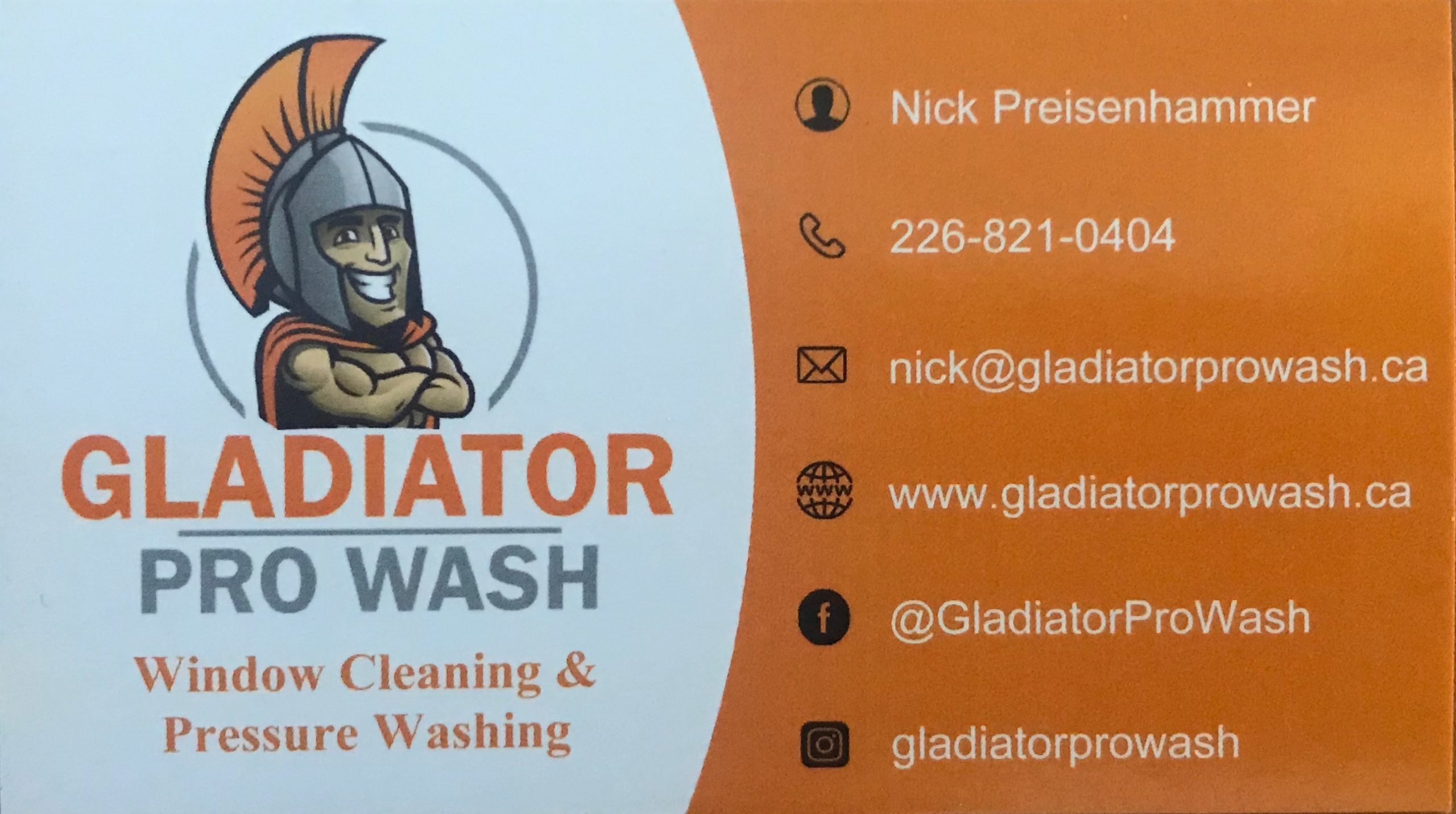 Note: Previously known as
 Nick's Window Cleaning
Hi, I'm Nick. I run a local business based out of Elora specializing in window and all other exterior cleaning. Here are the services I provide:
Window cleaning
Full house washing (siding and exterior eavestrough/fascia – low pressure)
High pressure washing (driveways, pathways, decks, patios, etc.)
Awning cleaning
Eavestrough cleaning
Give me a call anytime if you have any questions, or check out our website.
Centre Wellington
(Elora/Fergus/
Belwood/Guelph)
Certified Deep Muscle Therapy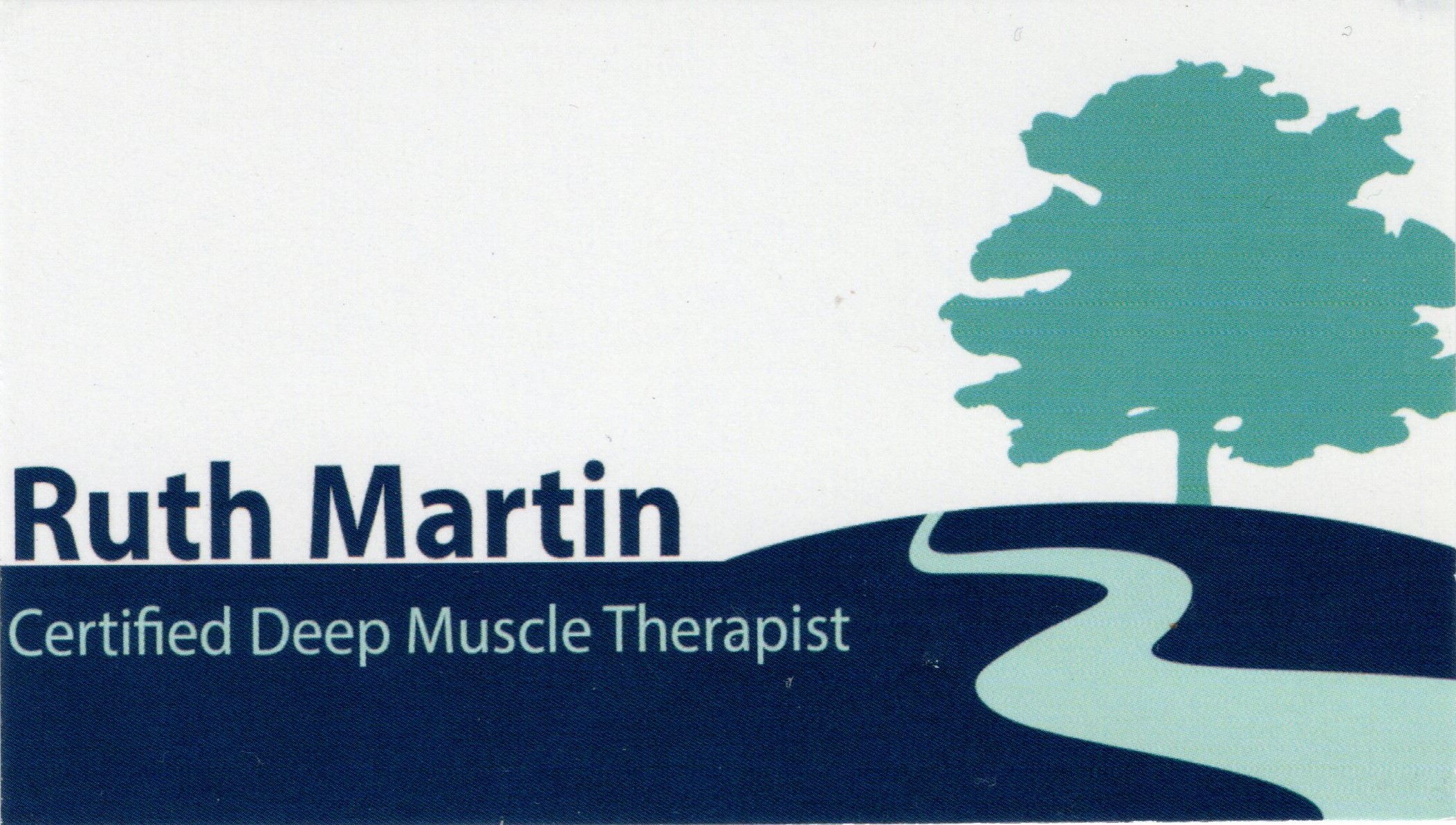 Certified Deep Muscle Therapy
is a European technique
which treats the deep layers of muscles
using hands and fingers.
CDMT enhances circulation, encourages better elimination and drainage, and stimulates the natural forces in the body to restore balance  to the muscles and systems of the body. Typically, a treatment starts with working on the neck and shoulders while the client is seated on the massage chair. The rest of the body is treated as needed with the client lying on the treatment table.

67A Victoria St.
Elora, ON
Garage Door Sales and Service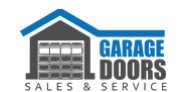 Centre Wellington's
Highest Rated
Garage Door Service
We specialize in garage door repair, new garage doors, garage door openers, aluminum capping around your garage door and even entrance doors. Give us a call and let us meet all of your needs!

6715 Wellington Rd 7
Elora, ON
N0B 1S0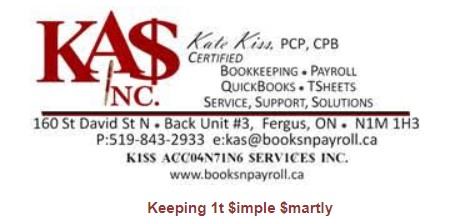 Certified Bookkeeping /
Payroll / QuickBooks
with over 20 years
hands on experience.
Setup – Service – Support – Solutions
Focused on entrepreneurs, small-mid size business
Educator & Coach for:
Bookkeeping basics Document recognition, Record keeping practices,
QuickBooks application
Keeping 1t $imple $martly
160 St. David St. N.
back unit #3
Fergus, ON
N1M 2J6
6715
Wilmot Financial Services Inc.

181 St. Andrew St. E.
Unit 6
Fergus, ON
N1M 1P9
(elevator in building)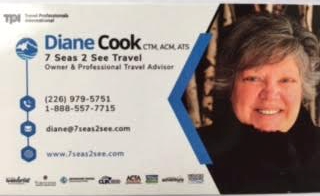 7Seas2See Travel is a bespoke Travel Planning company that curates custom trips for individuals and groups.
An affiliate of TPI – Travel Professionals International and TICO certified.
Diane is a world traveler, and a professional, accredited and certified Virtuoso Travel Advisor with a 37 year travel career. She left the corporate world in 2015 to start her own travel company – set up to work from anywhere in the world with an internet connection. As a Virtuoso Advisor, Diane is a member of the world's most prestigious (by invitation only) alliance of luxury and experiential travel professionals and suppliers.
Specializing in:
Not-So-Usual Travel Adventure
Expedition
Luxury
Small Ship
Walking
Culinary & Wine
Polar Region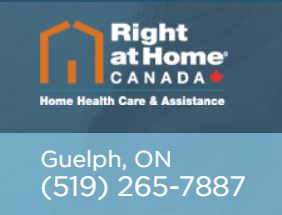 Right at Home Canada in-home private healthcare support services are built around your individual requirements and provided on your time schedule. We provide non-medical and medical support, from transportation, meal preparation, personal support to skilled nursing assistance.
Our senior Care Services are extensive. But we tailor our plans around your loved one's specific needs through our Custom Care Plan and custom caregiver matching.
That's our difference. And it makes all the difference in the world.
Office Address:
85 Norfolk St #203,
Guelph, ON N1H 4J4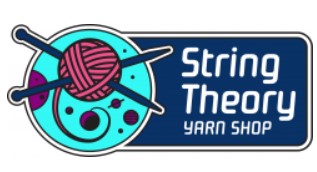 Creativity
Connection
Community
Yarn – Needles and Hooks – Books and Patterns
The mission in opening this shop was to create a welcoming space for all yarn enthusiasts to connect with each other and share their love of their favourite yarn crafts.
If you love yarn and fibre arts, you are welcome!
Come share your projects and browse the large and ever growing collection of yarn for your next project.
The shop has a large "sit and stitch" and learning area at the front, and all of the glorious yarn at the back. Knitting and crocheting classes will be offered soon. 
(Unfortunately COVID 19 is temporarily restricting the number of people who can gather.)

New Shop Hours
Monday: Closed
Tuesday, Wednesday, Saturday: 10:00am – 5:00pm
Thursday, Friday: 10:00am – 6:00pm
Sunday: 11:00am – 4:00pm
152 St. Andrew St. West
Fergus, ON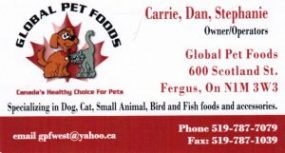 The largest Canadian-owned pet specialty retailer.
We proudly offer:
Largest selection of Canadian RAW and dry dog and cat food
Frequent Buyer Program
Highest Quality Dog & Cat Foods
Wide Variety of natural Pet Supplements
Experts in Allergic Dogs & Cats
Air Miles Program
Hours:
Monday Thru Wednesday: – 9:00 a.m.- 8:00 p.m.
Thursday & Friday: – 9:00 a.m. – 9:00 p.m.
Saturday: 9:00 a.m. – 6:00 p.m.
Sunday: 11:00 a.m. – 5:00 p.m.
Global Pet Foods
600 Scotland Street
Fergus, Ontario
N1M 3W3